Lobster Adjustable angle wrench M, Adjustable angle wrench(With insulated grip)
Code : M100, M150, M200, M250, M300, M375, M450, M600, S36
Brand : Lobster
Adjustable angle wrench M
•1.5 times higher strength than JIS powerful class wrenches (M200 to 375).
LOBSTER original adjustable angle wrench.
•LOBSTER has been making adjustable wrenches for 80 years. They are manufactured under complete quality control based on strict in-house standards. Their strength is higher than JIS powerful class wrenches.
•The body and parts undergo proprietary machining on purpose-specific machinery in a streamlined production process from forging to finishing that renders uniform precision and excellent durability.
Use/Application
•Tightening and loosening nuts and bolts
Specifications
| Model No. | (Product) weight | size1 | size2 | size3 | Jaw C apacity | Bolt, nut maximum dimension | Torque strength |
| --- | --- | --- | --- | --- | --- | --- | --- |
| M100 | 50g | 110mm | 4.0mm | 9.0mm | 0?13mm | M8 | 73.0 |
| M150 | 120g | 160mm | 6.0mm | 10.0mm | 0?20mm | M12 | 184.9 |
| M200 | 250g | 206mm | 7.5mm | 13.0mm | 0?24mm | M16 | 411.9 |
| M250 | 440g | 258mm | 9.0mm | 15.5mm | 0?29mm | M18 | 691.4 |
| M300 | 700g | 304mm | 10.0mm | 18.0mm | 0?34mm | M22 | 1176.8 |
| M375 | 1350g | 385mm | 14.0mm | 23.0mm | 0?44mm | M27 | 2206.5 |
| M450 | 1900g | 465mm | 13.5mm | 24.0mm | 0?53mm | M33 | 3079.1 |
| M600 | 3400g | 615mm | 20.0mm | 30.0mm | 0?67mm | M44 | 3853.8 |
M600
Adjustable angle wrench(With insulated grip)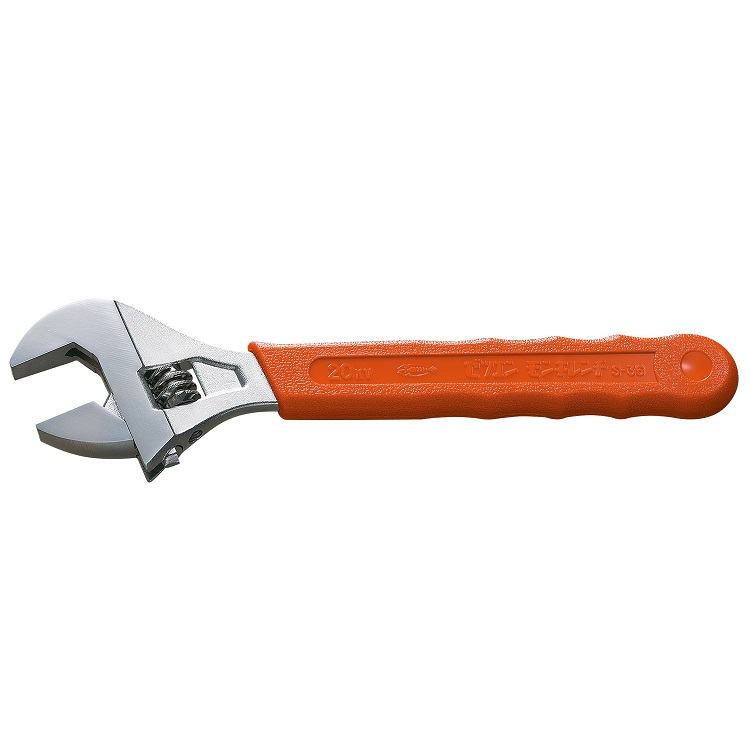 •Despite the 250-mm body, the jaws open 36-mm wide, which is a standard opening for a 300-mm body
•Test voltage: 20 kV for 1 minute (Operating temperature range: -20?C to 70?C)
Use/Application